02 décembre 2012
Abat-jour en gros tissu (genre laine) couleur écru
Hauteur: 165 cm
Producer :Temde (Germany)
Prix: 275€
01 décembre 2012
Bienvenue aux amateurs du design vintage,
Nous voulons partager notre passion avec vous et présentons à la vente des objets et du mobilier des années 40-70, scandinaves, industriels,...
N'hésitez pas à nous contacter (xsalesbyufo@gmail.com), nous serons ravis de répondre à vos questions et de vous montrer les objets avant de les acheter (nous sommes situés à Bruxelles).
Bonne Visite!
Welcome Fan of vintage,
We want to share our passion with you and are selling some object and furniture of the 40-70's, scandinavian, industrial,...
Don't hesitate to contact us (xsalesbyufo@gmail.com), we'll be glad to answer your questions and show you the objects before buying (we are located in Brussels).
Have a nice Visite!
© Drawings Philippe Weisbecker
Producer: Nagel (Germany)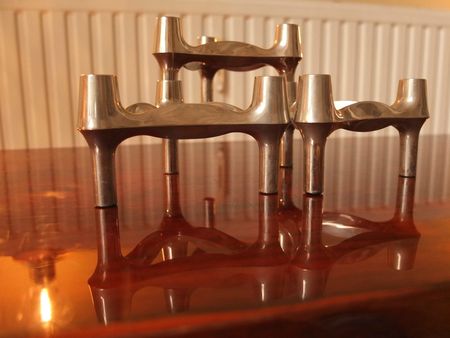 Prix: 15€/pièce / 5 disponibles
Designer: Ingmar Relling
Producer: Westnofa Norway
Prix: VENDU